Valora is investing heavily in expanding its pretzel production and banking on strong own brands, such as ok.– or Caffè Spettacolo. In doing so, it is following the classic management strategy of vertical integration, i.e. operating direct responsibility for a larger part of the value chain independently – for reasons of efficiency as well as margin and differentiation considerations.
---
6.30 a.m. in the station: the smell of fresh pretzels in the air. Passers-by grab a coffee at Brezelkönig and a tasty snack to go with it. 11.20 p.m. back at the station: people returning home pick up some water or cigarettes from k kiosk. Whether it's fresh snacks, drinks, newspapers, magazines or mobile phone accessories, they all meet a need that customers want to satisfy quickly and with a minimum of fuss. People aren't interested in the processes and organisation that go into ensuring the products are always available in the expected quality and at good prices.
It's up to companies like Valora to go into the fine detail and work out exactly how they are to provide customers with the products they want. Besides the many logistical challenges, fresh or frozen products being an example, the key question is invariably: to make or to buy?
Vertical integration pays off
The answer lies in the vertical integration of a company's different value chains. The less a company buys in favour of making its own products, the higher the degree of vertical integration. There are different levels of integration, depending on how many upstream and downstream production and distribution operations are brought in-house. It all boils down to whether it makes better business sense to provide a service independently or buy it from elsewhere. A company like Valora has many value chains and there isn't always a case to be made for vertical integration.
The American Strategic Planning Institute empirically demonstrates in its PIMS research project (Profit and Impact of Market Strategy) that strong vertical integration is good for return on investment and cash flow for companies in mature markets such as retail for example. On the other hand, it has a negative bottom line impact in very volatile sectors requiring a lot of investment.
Combination of in-house production and own brands
Valora also sees vertical integration as a key competitive advantage, which is why it is a mainstay of the company's corporate strategy. The strategic priorities are as follows: further expansion of pretzel production facilities and improved marketing across all formats, plus clear positioning for its strong own brands, such as ok.– or Caffè Spettacolo.
Use the competitive advantage
Part of the rationale behind vertical integration is economic: greater cost efficiency and higher margins leading to a larger profit contribution. In addition, it enables strong own brands to gain an advantage over the competition. The extremely popular ok.– products are a case in point. They are an entry-level product and a competitively priced alternative to prominent third-party brand products. As a result, ok.– has established its own loyal customer segment. However, the brand's vertical integration is not yet complete. Third parties actually produce the goods and supply them to Valora.
ok.– products used to only be available in the k kiosk format. Since then they have been gradually rolled out to avec, Press & Books, U Store, Cigo, Service Store DB in Germany and, most recently, BackWerk. Valora is taking a similar approach to Caffè Spettacolo coffee. Besides the around 30 Caffè Spettacolo sales outlets in Switzerland, the brand is present as coffee modules in more than 600 Valora stores and at k kiosk, avec and Press & Books. In this way, Valora has created a substantial alternative to the classic brand products.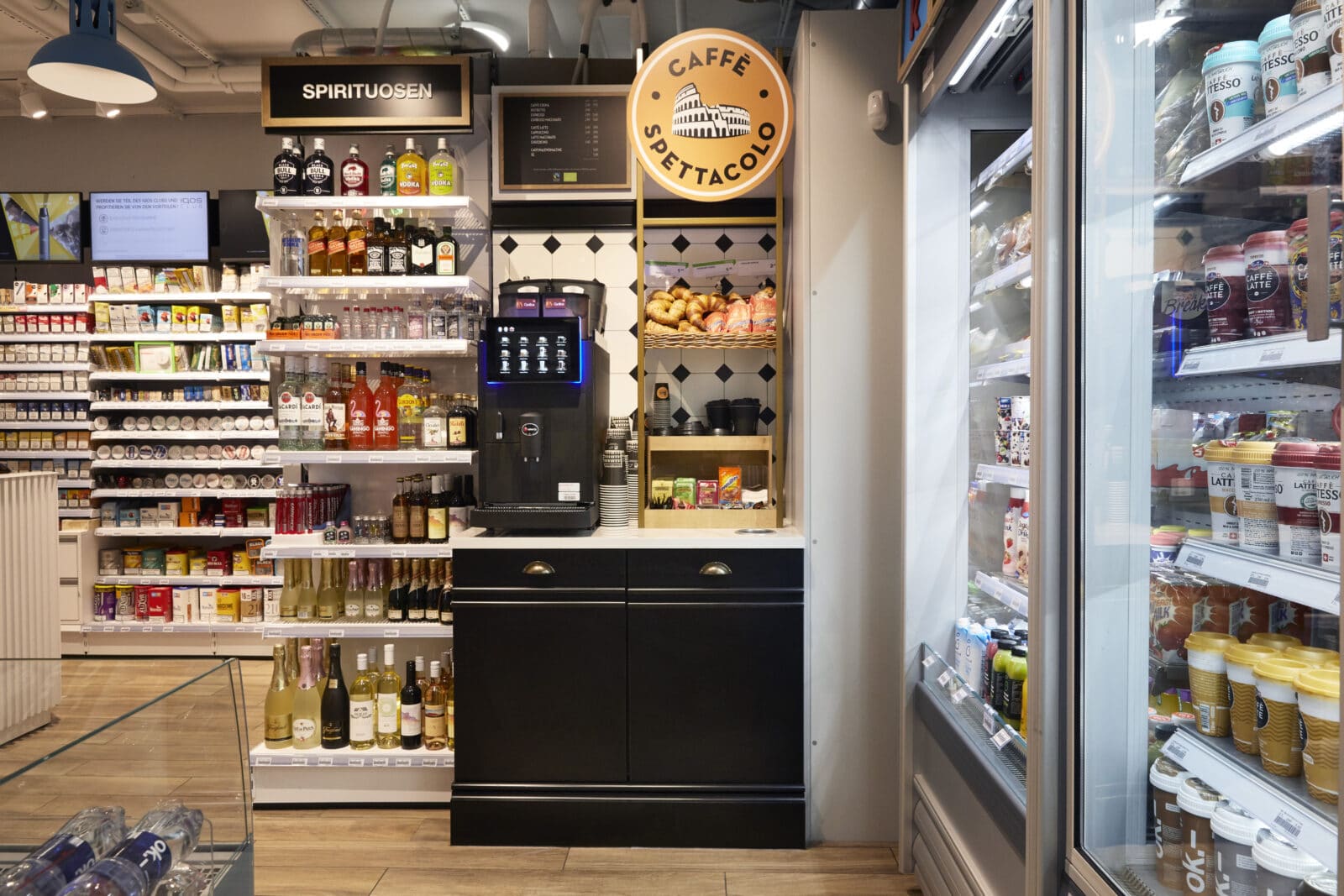 Another advantage of efficient in-house production via an integrated value chain is that Valora controls the product and service quality from A to Z. In-house production and logistics also make it easier to meet the important demand for more fresh products by producing or processing in the store itself. That is another unique selling point for Valora, one example being its BackWerk shops, where over 40% of the products are made fresh in the store.
Around 25% of gross profit due to vertical integration
Valora's financial figures show the extent to which the company is targeting stronger vertical integration. It earned 24,4% of its gross profit through own brands in 2019 with Ditsch and Brezelkönig baked goods accounting for the biggest share. The fully overhauled avec format also buys into this trend.
Notwithstanding the successful management of diverse value chains through vertical integration, Valora is convinced that the fundamental question – to make or to buy – must be assessed for every single value chain. That's why Valora commissions external providers to manage some standardised logistics processes in full, for example the delivery of magazines and newspapers to sales outlets.
---
Photos, video: Noë Flum
This article appeared for the first time on 28 November 2019 and was updated on 19 February 2020.