It is important to Valora that it provides its franchise and agency partners with the freedom to act entrepreneurially. After all, those who view themselves as independent entrepreneurs and have the scope to act accordingly are committed, motivated and develop their own ideas. With Valora, the company's franchise and agency partners can also rely on a partner that offers them top locations as well as support with training courses and assistance with operational matters.
Around 15,000 employees work within the global Valora network. 80% of the employees are active in the area of sales, at the 2,800 points of sale operated by Valora's different formats. Some of these formats are outlets operated by Valora, while others are points of sale that are run as part of the agency partner model or the franchise model. In Switzerland, the vast majority of the sales outlets (62%) are managed within the framework of the agency partner model, whereas in Germany the franchise model dominates (51%). BackWerk, for example, which was acquired in autumn 2017, relies entirely on franchise partners and has achieved great success with this model. The popular self-service bakery has already received multiple rewards in this area.
---
Different models, many similarities
Both franchisees and agency partners are independent entrepreneurs who participate in the business success of their company. The biggest difference between the two concepts is that franchisees sell their goods for their own account and pay a fee to Valora for the franchise license. In contrast, the agency partners sell goods on behalf of Valora and receive an agency commission on the generated sales, which they use to pay their staff. The franchisees and agency partners benefit, in particular, from the formats' strong brands, tried-and-tested expertise, highly frequented locations and well-conceived logistics services and national marketing.
In both cases, a business concept is prescribed that specifies, among other things, a uniform appearance (corporate design) and certain requirements regarding a standardised assortment. However, these guidelines allow partners to codetermine additional product ranges and initiate local marketing activities.
With its franchisees and agency partners, Valora determines the contractual framework conditions for the collaboration and checks compliance regularly. Responsibility for employees and the running of the respective sales outlet always lies with the independent entrepreneurs. The rental agreement is always concluded via Valora.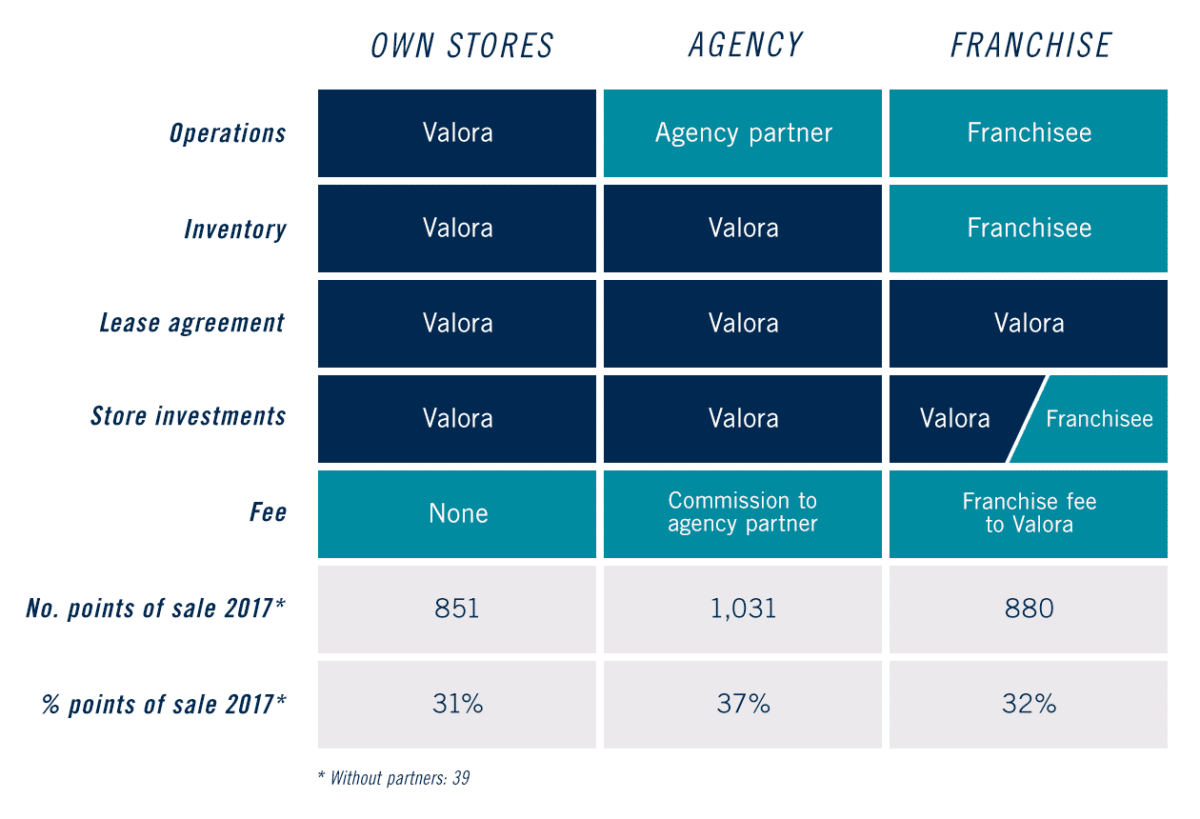 ---
The human factor makes the difference
For both models, the key to success is the selection of the right partners. They must not only contribute entrepreneurial flair, but also possess a passion for sales, a service mentality and basic business knowledge. A friendly attitude and an enjoyment in dealing with customers are also fundamental requirements for ensuring success as a franchisee or agency partner. And: a partnership is only successful over the long term if Valora and its partners benefit in equal measure.
«You have to view each and every customer as a guest.»

Baidullah Naroei, a Valora agency partner since 2015