For 85 years, people in Switzerland have recognised the small k as a way to brighten up their journey. k kiosk is as well known as it is popular with anyone who has browsed, bought a snack or made some emergency purchase in its stores. Now k kiosk is even brighter, more modern and with more food items than before while also retaining its traditional tobacco, press products and games of chance.
---
In mid-2018, Valora introduced a new concept for its avec shops. Now it's the turn of Valora's most famous format: k kiosk. A lot has changed since the first kiosk opened its doors at Le Locle station in 1883. In those days people wanted newspapers and tobacco. However, the changing nature of media has reduced demand for printed products and growing health awareness has impacted demand for tobacco. Valora has met these developments with innovative solutions in all areas, for example the revised k kiosk concept now offers a higher food and fresh produce component in its range.
On-the-go catering
Growing mobility means more people are snacking. Out-of-house consumption and impulse buys are also on the rise. People are eating on the go more and want more healthy options. As a result, k kiosk is following the lead of avec by offering more tasty, healthy and fresh products. Customers can now enjoy a "healthy snacking module" and a "fresh mix module". The latter contains salads, sandwiches, meat and milk products delivered fresh every day.
The conversion also features a larger drinks selection. k kiosk now has over 80 different types of flavoured water, energy drinks, smoothies and fruit juices. Mineral water can now be purchased for 1.50 Swiss Francs through the own brand ok.–. Moreover, the new coffee module is being expanded, as reflected in an upgrade of complementary products for example. There is also more emphasis on baked goods and warm snacks in highly-frequented areas.
Going digital
Notwithstanding the consistent growth of food and beverages, k kiosk is staying true to its DNA. Tobacco, magazine and sweets lovers can still get their money's worth. k kiosk is a leader in alternative nicotine products with its extensive range of heated tobacco and e-smoke products. k kiosk is, as it has always been, the place for what you need when on the move. Anything from an umbrella against the rain, a power bank or a cable to charge your smartphone. The new electronics module also offers Apple accessories and Beats headphones.
In addition, Valora is focusing on expanding its popular financial, logistics and digital services: whether withdrawing money, buying ski tickets or picking up hardware from a Swisscom easy point, k kiosk is exploiting new technologies to make its customers' shopping experience even better.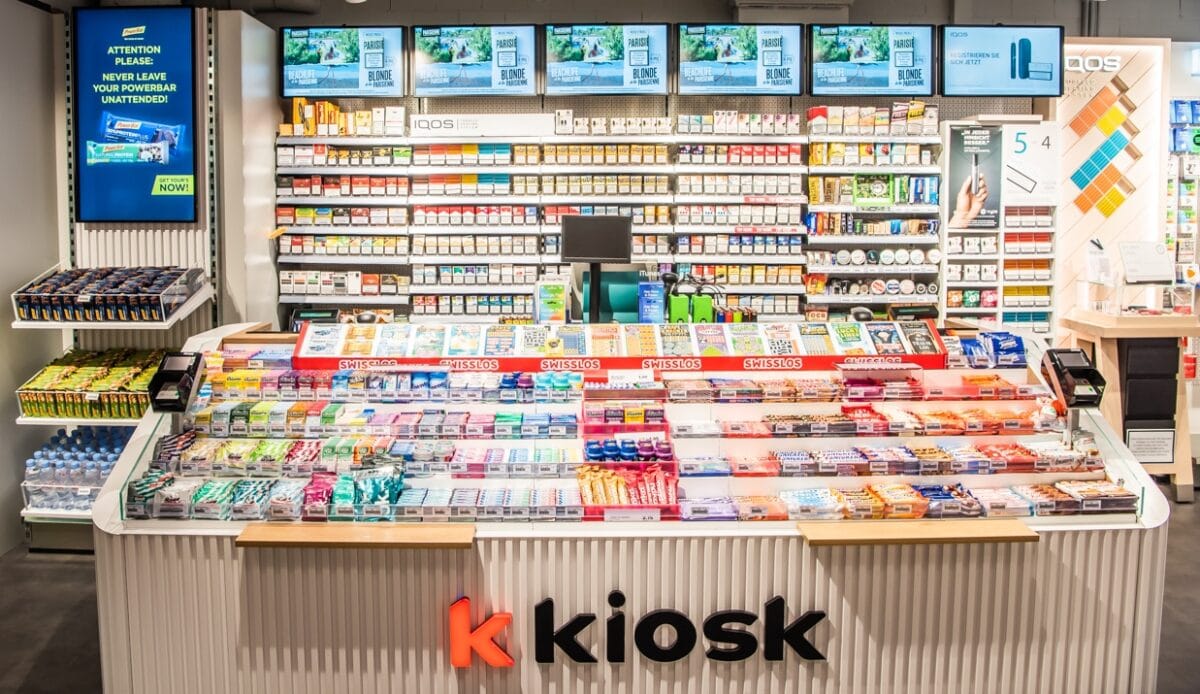 Modern shop design
It doesn't stop with the range of products either. The k kiosk shop design radiates its new image and is much brighter and more modern now. The layout of the shelves, coolers and promotional displays has been arranged around distinct lines and passages so customers can move more easily around the premises. Moreover, the division between quick purchases and the more leisurely areas for browsing etc. enable commuters to quickly find what they need. Valora is thus living up to its shopping promise: quick, convenient and relaxed. This is backed up by initial customer surveys about the new k kiosk.
In autumn 2019, Valora began renovating the sales outlets at SBB locations. Currently, several k kiosk stores per week are being renovated. This mammoth project not only involves a large number of conversions, but also the challenge of having to finish the conversion work in a very short time – often just a few days. To optimally meet changing customer requirements, the range and layout are being optimised on an ongoing basis. The transformation to the k kiosk of the future will be complete by the end of 2020. For now, at least.
---
Photos: Noë Flum, nonophotography / Video: Noë Flum
This article appeared for the first time on 25 October 2019 and was updated on 19 February 2020.