Targeted training and intensive coaching up to and beyond the opening day: Valora trains its franchisees and agency partners to become successful, self-employed businesspeople. The training is specific to the individual formats.
The big day came at 7 a.m. on 15 December 2020: a stone's throw from Essen main station, the Valora Food Service Germany campus opened its doors. This is where around 50 BackWerk franchisees and agency partners from the Ditsch pretzel bakery can undergo their training. This represents a milestone achieved in the middle of the COVID-19 pandemic and designed to modernise training, standardise it more and raise it to a new level.
Valora franchise and agency partners: self-employed – but not alone

Valora relies on motivated staff and entrepreneurial operators to help realise its vision of the best food and convenience concepts. The operator models are central to this, with partners acting as self-employed entrepreneurs and participating in the business success. At present, around three quarters of Valora sales outlets are operated by franchisees and agency partners (Differences between franchises and agencies). Valora offers them a tried-and-tested concept at top locations, as well as professional training and intensive coaching up to and beyond the store opening.
At the heart of the campus are the public sales outlets of BackWerk and Ditsch for practical training under real-life conditions. The campus also includes training rooms and a studio where webinars are held and e-learning content produced. "Our aim is to provide modern and efficient training, which is why we supplement the training at the POS with digital offerings," explained Patrick Bartsch, Head of Franchise & Operational Excellence at Valora Food Service Germany.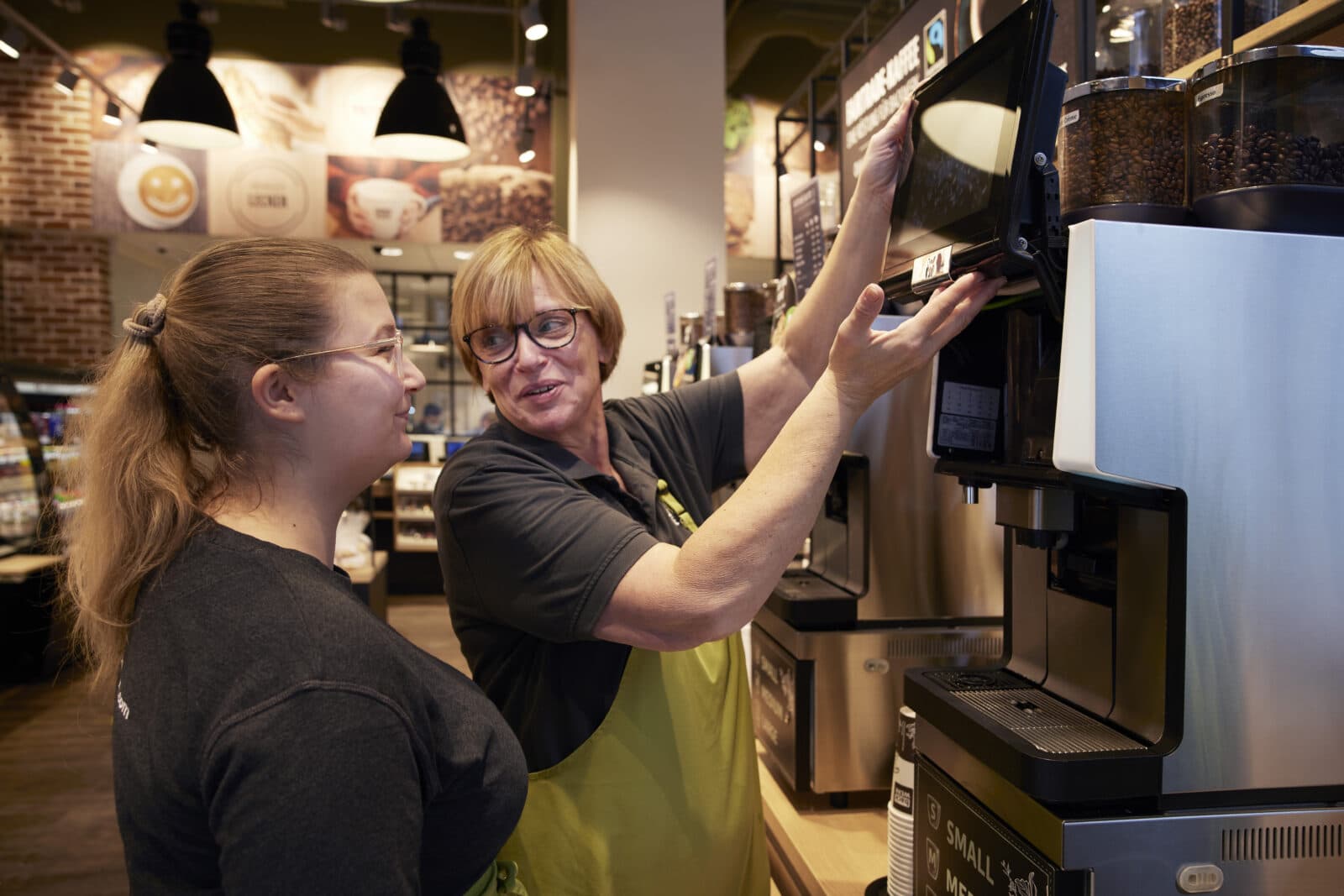 Closeness promotes communication
Bartsch continued by saying that the importance and acceptance of virtual courses has increased during the COVID-19 pandemic. At the same time, he is pleased that the new campus is within walking distance of the headquarters of Valora Food Service Germany. "This closeness promotes communication and brings us all even closer together," he asserted. "What's more, we can better communicate our values and the love of our brands before we send our partners out to the regions."
The system standard always forms the basis of the training provided to operating partners. A catalogue with guidelines and specifications on how to set up the counter display or how to clean cold storage rooms. The standard serves as quality assurance and a recognition statement, enabling guests in approximately 500 BackWerk and Ditsch stores across Germany to enjoy their favourite snacks of the same high quality.
Internalising the system standard is particularly challenging at BackWerk with its extensive product ranges and complex processes. That's why, for ten years now, the company has been focusing on a centralised, uniform training programme – outside of the campus at its own academy in Dortmund. Six weeks of basic training are followed by two weeks of work experience. The theoretical training sessions are limited to one or two hours every couple of days – the counter work starts from day two. Patrick Bartsch: "Eight hours of theory every day are not for budding self-employed businesspersons. They're doers and want to get stuck in."
---
Interview with BackWerk franchisee
"People speak to each other as equals here"

Brian Samali has been a BackWerk Germany franchisee since 2018 and now manages four stores and 26 employees. He entered the food sector as a newcomer. Following his MBA in Business Administration in the US, he managed a software company, among other things.

Mr Samali, what is it like to be a self-employed entrepreneur?

A lot of people think, "Oh, it would be great to be my own boss." And it is. But self-employment changes everything. For example, there is the new responsibility: you may be your own boss, but you are also the boss of the employees. That calls for leadership qualities, people skills and good instincts.

And the day doesn't end after eight hours, does it?

That's correct. Self-employment involves a great deal of work. I am always taking care of several things at once. For one thing, there's the office work – book-keeping, orders, salary payments, etc. You also have to do your bit as the boss. Especially if employees are absent. I had to get used to the amount of standing and the physical work. I have one of those watches that tells you how many kilometres you walk. My average is ten kilometres a day. It keeps you fit!

Have you ever regretted taking the plunge into self-employment?

Never, not for a second! I can't imagine being an employee anymore or sitting at a desk all day. I enjoy my work. No two days are the same. And I have a very good income.

Why did you not choose full independence?

When I became interested in self-employment, I really wanted to prove myself and be completely independent as an entrepreneur. But the more I thought about it, the clearer it became that I would not be able to do it on my own. Although I had the motivation, capital and resolve to be successful, I lacked the necessary expertise. The risk of going it alone was too great for me. I needed a strong partner. As a franchisee with Valora behind me, I have now managed to build up a flourishing business.

Why did you decide to franchise the Valora format BackWerk?

I liked the self-service bakery concept. Plus the products are fairly priced and of high quality. I was also sure I would make a good return. That's why I felt like a fully-fledged partner at Valora right from the start – people talk to each other as equals.

What did you like about the BackWerk franchisee training programme?

That you apply the theory directly with real products and real customers in the shop. That way I knew I could do it "in real life." The training courses on official regulations were also invaluable. You have no idea how many rules there are! I would never have found my way through the regulatory jungle by myself. During our training, we were taught which forms we had to fill in and when – and all in understandable German. Official German can be quite difficult…

How would you describe your relationship with Valora?

As a true partnership. Both partners have a responsibility, a role. My role is to manage a successful BackWerk outlet with happy customers in line with defined processes. Valora provides me with the tools I need to do this – successful and profitable products, a first-class cash-register system, top locations and high-quality advertising material.

Did you feel this partnership during the COVID-19 pandemic?

Yes, the support is fantastic. I remember well, for example, when there was a plexiglass shortage. Everything was sold out. Same with toilet paper and noodles. (Laughing) Valora took care of the procurement, delivery and installation of the screens. It was the same with the disinfection stations and the signs to wear a mask and show how many people were allowed in the store.
---
Learning by doing – that is also the guiding principle of the training for the Brezelkönig format by Valora Food Service Switzerland in Emmenbrücke. Unlike BackWerk, however, the training courses are individual and tailored to the prior knowledge and needs of the prospective agency partners. And it's no wonder: the sales area, range and number of stores (around 60) are smaller. In addition, only four to five men and women are trained each year. They are mostly former employees with special skills, motivation and ambition. "They know how the store works and know the recipes and baking processes," said Sales Manager Thomas Schaffer. "Anyone who has spent a good amount of time working at Brezelkönig can take over a store in just a few weeks."
Individual lessons for Brezelkönig partners
With the exception of a few centralised training courses, partners are given one-to-one basic and further training by the sales managers. "A continuous learning and improvement experience," said Schaffer. According to Schaffer, the greatest challenge here is personnel management: you need to have a good feeling for people and be a role model. It can also take a leap of faith to: "Trust employees and delegate work and responsibilities. No-one can be on site 24 hours a day."
Personnel management is also prominent in BackWerk's training programme. It is learnt through role plays. "Every self-employed person must find their own way of managing their staff. However, it is important that employees feel valued," said Patrick Bartsch. Getting involved on the operational side and setting a good example also contributes to credibility.
There for the franchise and agency partners in the crisis
Whether in Essen or Emmenbrücke, many prospective self-employed people start to ponder at some point. Can I do it? Can I be my own boss? Thomas Schaffer counters such concerns with strong arguments such as the proven business model, top locations and support from the sales manager.
At BackWerk, they bring up the over 250 franchisees in Germany, many of whom successfully manage several stores simultaneously. "We also ensure we are there for them in the event of a crisis," explained Patrick Bartsch. "As was the case with the COVID-19 pandemic – when dealing with the authorities, implementing new regulations, or procuring safety materials."
---
This article appeared for the first time on 1 October 2021 and was updated on 23 February 2022.
Photos: Noë Flum.