Valora is one of the most important and productive retail and convenience companies in Switzerland. It creates direct value added of almost CHF 400 million per year, while its indirect value added is much higher at more than CHF 1 billion. This has been confirmed by a BAK Economics study.
With considerably more than 1,000 sales outlets, Valora has one of the densest sales point networks in Switzerland. By now, the different brands of the Valora Group have become indispensable to everyday life: k kiosk, Caffè Spettacolo, Brezelkönig, BackWerk, avec and Press & Books. This is backed up by great economic power and the company's importance as an employer and buyer of products and services from countless suppliers and partners throughout Switzerland. With the launch of the new avec concept with more fresh and in particular more regional products, Valora is further strengthening its local roots.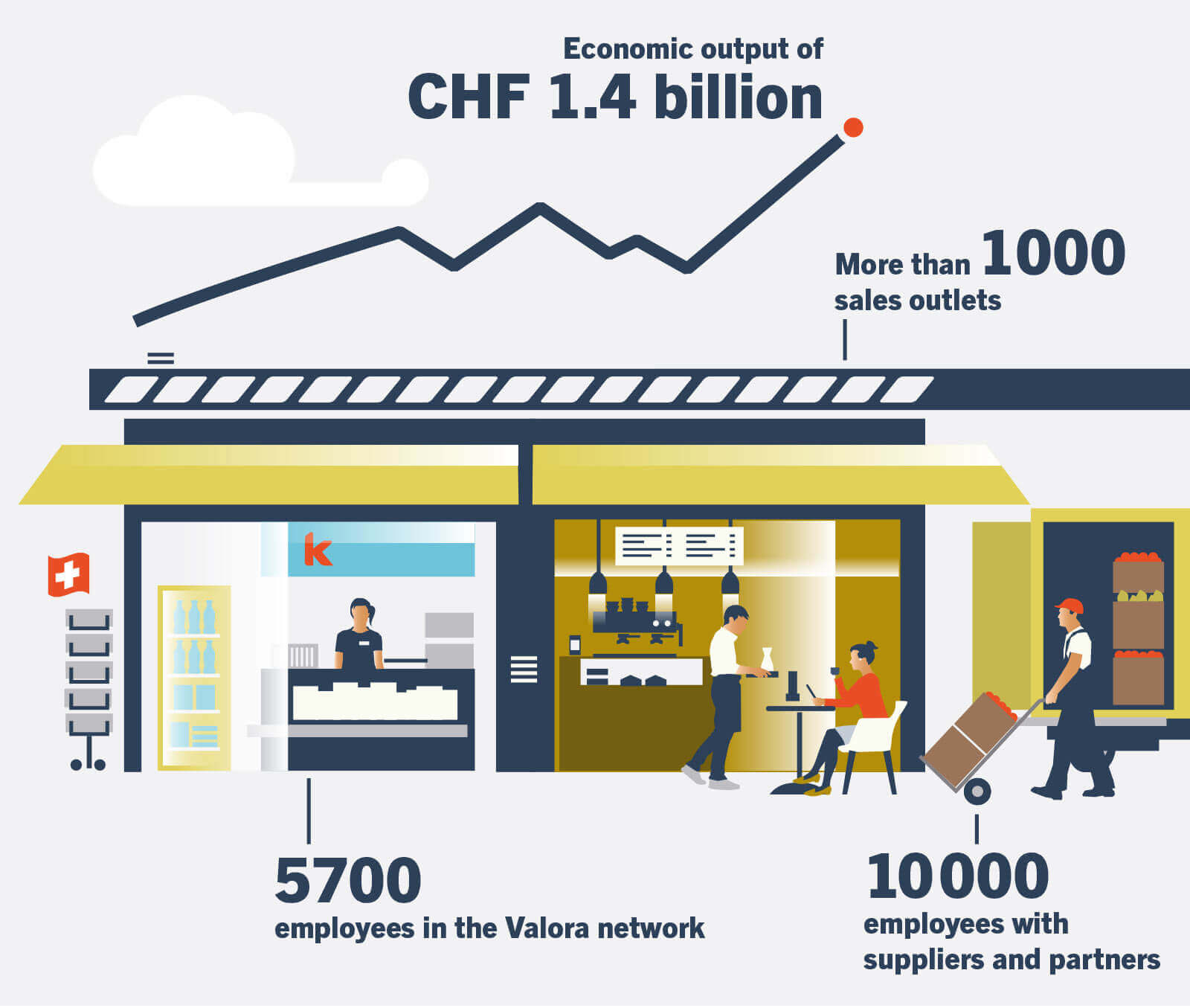 Valora thus generates a total economic output of more than CHF 1.4 billion as calculated by BAK in its study. This equates to a total of more than 15,700 jobs scattered throughout the country. Of these, some 5,700 people work in the Valora network, while Valora's suppliers and partners can employ around 10,000 people. This makes Valora responsible for around 3 percent of the value added in the food retail sector and as much as 24 percent in the convenience retail sector.
One Valora franc grows to 2.8 francs for its partners
Valora itself generates economic value added of CHF 374 million per year. Countless Swiss companies also benefit to the amount of CHF 1,042 million from its purchasing of goods and issuing of orders to third parties. On average, one franc of value added by Valora results in a further 2.8 francs of value added by other Swiss companies. Agricultural, food and tobacco companies are the biggest beneficiaries.
According to BAK, Valora is one of the above-average productive companies in the retail sector, which means that it generates a higher value added per workplace than other companies. In 2017, Valora's workplace productivity was CHF 99,500 compared to a sector average of CHF 96,500.
Valora also has an above-average output as an employer: every job at Valora indirectly creates two additional jobs at other companies. Here too, the main beneficiaries are the agricultural sector and the producers of foodstuffs, drinks and tobacco.
Unique positioning makes the difference
Valora attributes these above-average values and high productivity to its focused business model and clearly defined strategy. In contrast to other retail companies, Valora focuses exclusively on small-scale outlets at highly frequented locations and is fully committed to convenience with an ever-growing food share. The company also boasts an integrated value chain and very strong own pretzel production capacity.
---
Photo credit: Noe Flum/Infographics: Daniel Karrer