The closely knit and heterogeneous network of Valora sales outlets at heavily frequented locations depends on a highly sophisticated logistical operation. The growing popularity of fresh and broader food offerings is adding complexity to delivery schedules. Whether operating independently or with external partners, Valora has developed efficient and sustainable systems to optimally meet customers' needs.
---
Riffelberg railway station in Zermatt is 2,582 metres above sea level. Winter sportspeople, bikers, hikers and day trippers take the Gornergratbahn to Riffelberg every day. It's the ideal location to enjoy the breathtaking views of the Matterhorn and the surrounding mountain panorama. To make the occasion even more special, visitors like to treat themselves to a coffee, chocolate and other delicious snacks. And it all comes from the summit station's k kiosk.
As the population becomes ever more mobile, demand for fresh and healthy sustenance when on the move is growing. Nowadays, people expect to be able to access food from whatever remote location they choose to visit. In order to offer products at Riffelberg station, the suppliers first have to load it into electric vehicles in Zermatt (a car-free zone), from where it is taken to Riffelberg via the Gornergratbahn. Granted, delivery isn't quite so difficult for all Valora's over 2,700 sales outlets throughout Europe. However, the volume and different access points to the retail locations do make the logistics something of a challenge.
In order to meet customer requirements as fully as possible, Valora is continually expanding its range of fresh produce, which means that delivery operations also have to be constantly refined behind the scenes. This is done via a range of logistical approaches.
Retail formats: Up to six deliveries per week
The k kiosk, Press & Books and avec retail formats in Switzerland and cigo, Service Store DB and U-Store in Germany are supplied by external logistics companies due to the complexity involved. Around 2,000 retail outlets in both countries and an extensive selection of different product categories from many different producers present an enormous logistical challenge. However, there are providers specialising in precisely this field, with logistics centres spread throughout Switzerland. It is important that they are pure logistics companies operating independently of the producers, as this enables Valora to ensure independence and transparency at all times.
Most sales outlets receive two to three deliveries of sandwiches, salads, milk products and ready-made meals per week, increasing to six per week for the large outlets. This high delivery frequency enables the stores to offer fresh products daily. They can also be more flexible in their planning as the quantities are smaller and only have delivered what they need there and then. This reduces the volume of leftover goods and resulting wastage. When delivering fresh produce, it is particularly important to ensure it is kept at the right temperature. Special refrigerated vehicles are used for this.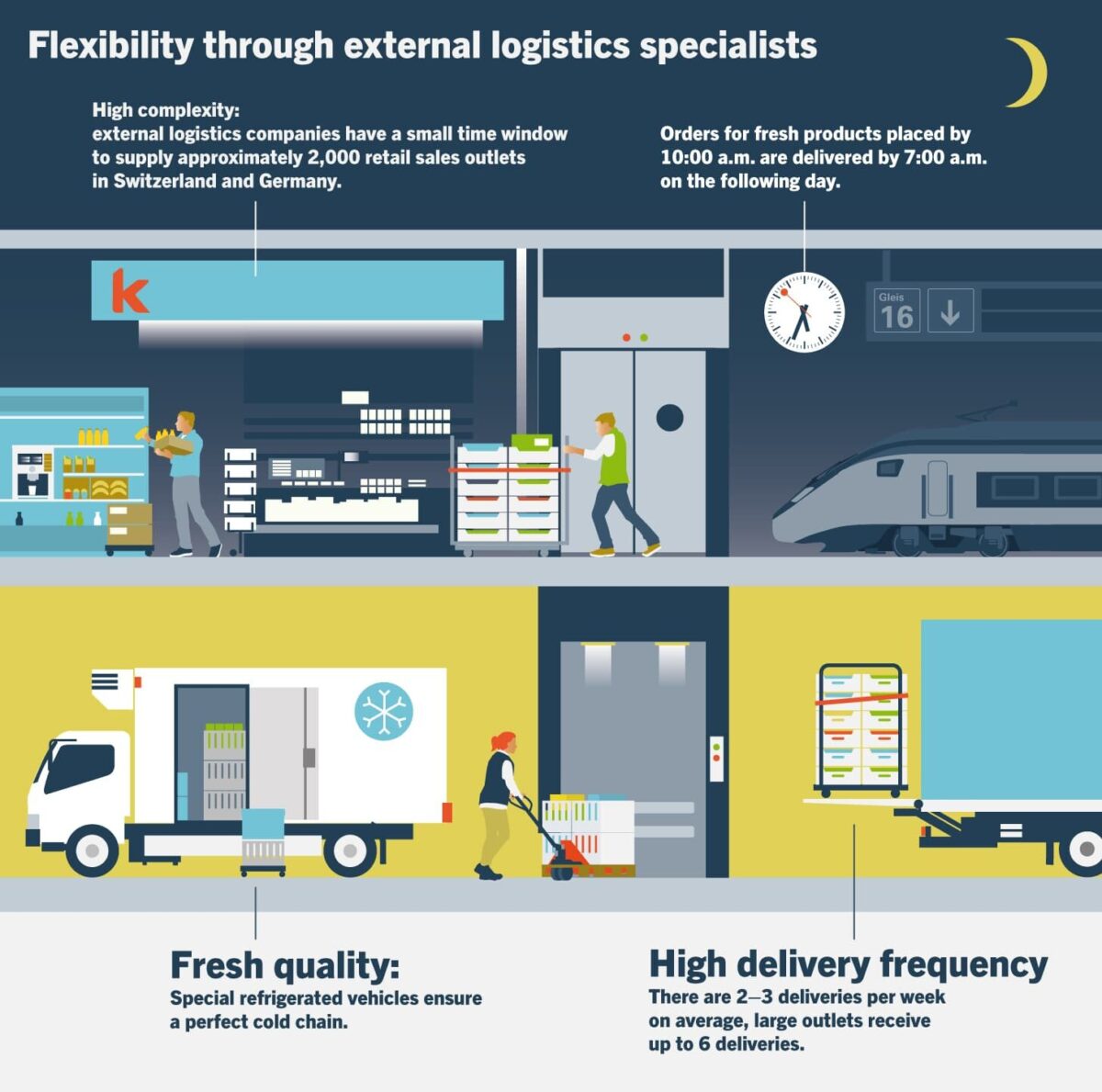 The sales outlets place the orders themselves. The Valora logistics team in Switzerland then works with the external suppliers to coordinate and plan the deliveries. A central storage warehouse, three logistics hubs and 14 distribution centres ensure that the products arrive at the right place and at the right time wherever the destination in Switzerland. Orders for fresh products placed by 10 a.m. are delivered by no later than 7 a.m. the following morning.
Proprietary logistics solution for food service formats in Switzerland
The food service formats in Switzerland employ a different system: with around one hundred locations throughout Switzerland, Brezelkönig, Caffè Spettacolo, Super Guud and BackWerk account for a much smaller volume of delivery locations. Moreover, they make the pretzel and bakery products – which constitute a significant proportion of the range – themselves. In 2019, Valora therefore constructed its own logistics centre directly adjacent to its production facility in Emmenbrücke. The suppliers also deliver foods to Emmenbrücke, such as vegetables, meat and cheese, that the sales locations need to make their sandwiches. The sandwiches are prepared and delivered from there – two to three times a week per location. The employees then refine the products directly prior to the sale.
The benefit of a proprietary logistics operation is that it enables the production and delivery of the pretzel and bakery products to be optimally coordinated. In addition, the delivery is planned in consultation with the sales outlets so as to ensure minimal disruption for customers and the general operation of the premises. This is especially important for small locations. In addition, organic waste is gathered by many sales outlets and deposed in the biogas plant, to enable reuse of produce that is past its sell-by date.
On a good day, 1,600 palettes leave the Mainz and Oranienbaum centres
BackWerk and Ditsch, the two food service formats in Germany, are currently switching to a shared external partner. BackWerk once had over six main suppliers all serving the points of sale separately. All the approximately 300 BackWerk outlets in Germany will be served by the same external logistics company by March 2020, with the 200 Ditsch locations also coming on board by the summer of 2020.
BackWerk and Ditsch access most of their pretzel products from the Ditsch pretzel bakery, which is also owned by Valora and is one of the world's leading pretzel producers. On a good day, there can be 1,600 palettes departing the Mainz and Oranienbaum centres, of which a lorry can take up to 33 in one journey. Besides Ditsch and BackWerk, other culinary establishments also source their produce from the Ditsch pretzel bakery.
The objective defined with the external logistics partner is to have just one supplier and one contact partner for all the BackWerk and Ditsch franchisees. Valora will also benefit from this efficiency gain through process streamlining and cost optimisation, and the significantly lower number of delivery trips will reduce the company's ecological footprint.
Many paths, one goal
Although the different Valora divisions apply different methods, they all ultimately share the same objective: efficient and sustainable logistics to provide optimal support to the employees in the sales outlets as they work to meet customer requirements. That is their key role within the Valora Group's conversion to foodvenience.
---
Photos, video: Noë Flum / Illustrations: Daniel Karrer