Ditsch pretzel bakery and its rich tradition have enabled Valora to develop into a leading global pretzel producer. Ditsch boss Seb Gooding shares his thoughts on the company's 100th anniversary, the growing B2B market and the future of the pretzel business.
---
When did you first taste a pretzel?

I can't remember my first pretzel but I do remember my first pretzel roll when I was a young lad at Cologne Carnival.
You have been responsible for over 750 Ditsch employees since January 2019, and they are responsible for the production and sale of over 700 million products. How did you find your feet in this company with its wealth of tradition?

I enjoy the work very much. We laugh and argue and get a lot done together. That suits me. I'm impressed by how proud the employees are of the company's long history. At the same time, they are forward looking. They understand Ditsch's market position very well and they do their utmost to keep improving it. There is no other company I would rather work for.
How has Ditsch developed during its first 100 years?

The company has an eventful history spanning several generations. The Mainz bakery was partly destroyed in the Second World War and the employees had to restore it themselves. Ditsch later became a patisserie, selling bread, cakes and other baked goods besides pretzels. The company then focused solely on pretzels and pretzel-based products from the 1960s/70s. This specialisation was better for the business margin as there were too many small bakeries in Mainz at the time. The first pretzel stand at Mainz main station in 1972 was another milestone. It was set up in the morning, taken down in the evening and supplied refreshment to commuters on the move. The first pretzel oven made it possible to bake the deep-frozen bread loaves on site from the1980s. However, Ditsch pretzel bakery has retained one constant throughout the 100 years: the employees' pleasure in working together to produce and sell good pretzels. The entry in the City of Mainz commercial register, as early as 1919, said: "Bäckerei für Brezel und Laugengebäck" (bakery for pretzels and pretzel-based products).
---
And what does Ditsch stand for today?

As in 1919: Ditsch stands for pretzels. That's it.
The Success Story
How do you explain the constant demand for pretzels?

They simply occupy a niche with a 0.5 percent share in the global baked goods market. However, pretzels have not only grown into a popular alternative to pastries in the German market, but also in the EU and US. The pretzel is simply a very tasty product and more substantial than a snack-on-the-go when combined with a sausage or cheese.
What role does Ditsch play in the Valora Group, which has owned the pretzel bakery since 2012?

Ditsch is a perfect fit for Valora. The growing mobility of the population and associated trend for consumption and snacking on the move define our business too, we also target highly frequented sites. As I always say: Ditsch plays the bass in the Valora band: calm, strong and reliable. Other brands may be more varied in their product development. With us, you know what you're getting, both in the B2C and the B2B market.
Besides the 200 sales outlets at German stations, B2B production has developed into a really important strategic pillar for Valora.
Indeed. Besides the B2C market, our German subsidiaries supply the Valora food service formats Brezelkönig and BackWerk and the retail formats ServiceStore DB, U Store and avec. In addition to this integrated value chain, we have been supplying major consumers since 1998, such as bakeries and hotels in Germany. We also export our produce to 30 countries – throughout Europe and overseas – for example to Japan, China, Israel, Canada and Australia. We've been in Cincinnati in the US with production since 2017 with Pretzel Baron, now known as Ditsch USA.
The demand for pretzels is so strong that the production lines in Mainz, Oranienbaum (Germany), Emmenbrücke (Switzerland) and Cincinnati (USA) no longer suffice.

We see additional attractive growth opportunities in the EU and US. We have also invested in the region of EUR 50 million in expanding our production facilities. Oranienbaum and Cincinnati gained a production line each by the end of 2019. An extra line will also be added to the Oranienbaum site in the first quarter of 2020, meaning we will have 16 production lines. We are also planning further investments worth about EUR 80 million in the period between 2021 and 2025 to meet the expected future market demand. That is a clear statement of intent by Ditsch to establish itself as a leading global pretzel producer.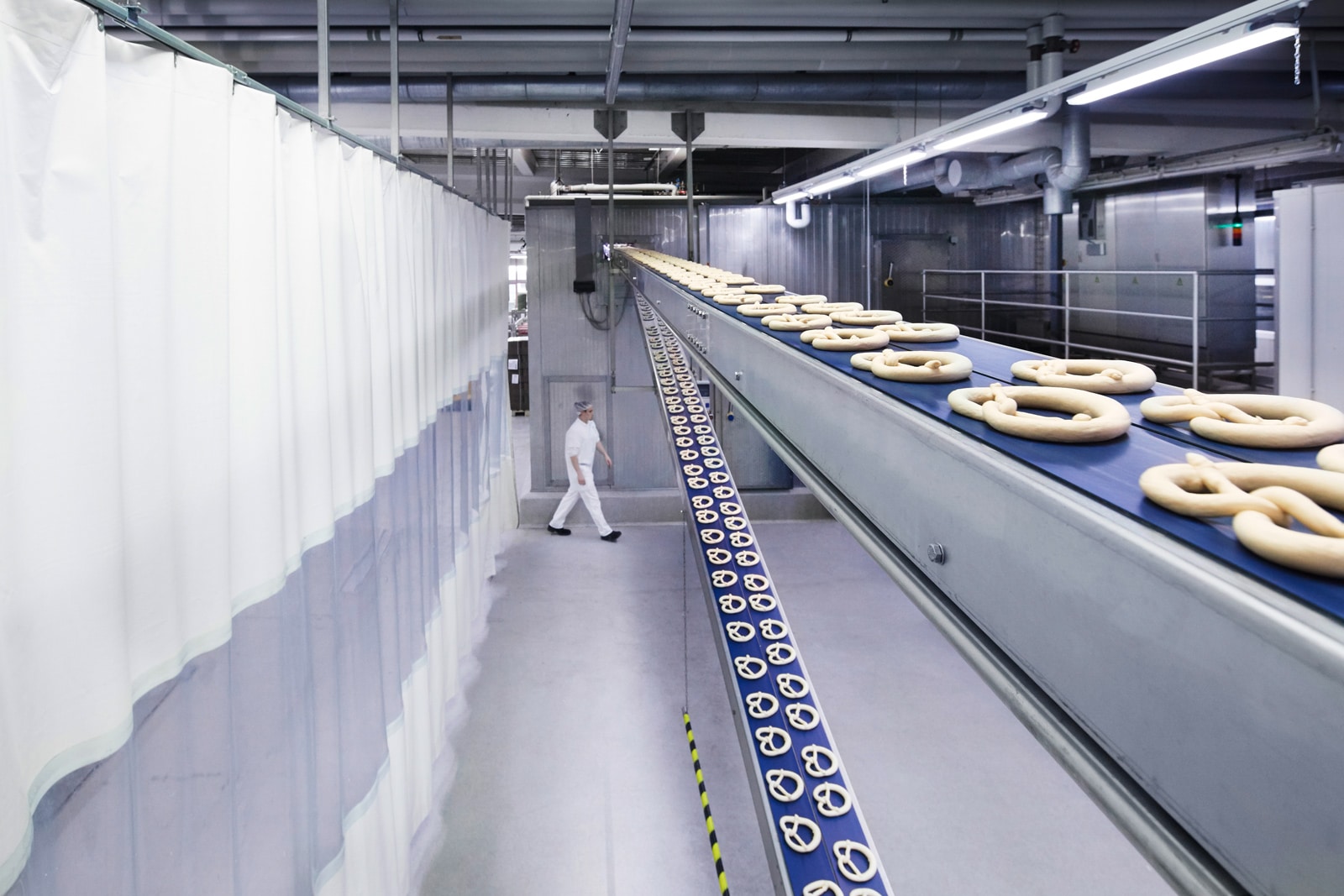 The prospect of added capacity through having new lines is also a challenge for employees, however.

Such a strong increase in production capacity does not happen every day and demands a lot of the staff, no matter how enthusiastic they may be, particularly in regard to logistics and sales. We haven't just turned on a few new machines, we have purposely placed ourselves in the fast lane. We had to prepare for that and train our staff accordingly.
Did it work?

We still have some way to go, but we are on the right path. We have a great team that achieved a lot over the past six months, supported by our current facilities. We are very happy with the performance, quality and progress. However, we can't overdo it in spite of our new premises and larger size and lose our focus on the pillars of "customer orientation", "quality", "raw materials" and "environment". They've mattered for the past 100 years and they will matter even more in future.
How do you see the future?
Ditsch has always been synonymous with pretzels and it will remain so. "Have a pretzel, make it Ditsch", is our slogan. We want to be a healthy and stable company in our sector, one that a partner would definitely want to work with.
World record – "We are pretzel!"
On the 100th anniversary, Ditsch makes an entry in the Guinness Book of Records:
424 employees successfully reproduce the famous pretzel in Oranienbaum.
---
Photos and video: Valora, Noë Flum, solution4media, Natalie Hermann
This article appeared for the first time on 18 September 2019 and was updated on 19 February 2020.