The avec concept was completely revised in 2018 – more food, more freshness and more regional focus. And all with a new look. Since then, Valora has developed various other avec sales outlet formats, thanks in part to digital innovations.
Around three and a half years ago, Valora opened the first completely refurbished avec shop at Bern railway station. This prototype of Switzerland's most modern foodvenience concept was the starting signal for the continuous expansion and further development of the offering. The new avec stores offer fresh convenience food, bakery products that vary according to the time of day as well as interesting sandwich creations and salads. In a nutshell – many more fresh products in a new, modern store design.
The convenience format at highly frequented locations like train stations and service stations is open with its extensive range 365 days a year from early until late with fresh products for immediate consumption.
---
Concept
Classic bricks-and-mortar store
Launch
2000 (2018 fully revamped)
Stores
166
Opening hours
Mon–Sat/Sun (early until late)
Option 24/7 operation
Access
Normal access, avec 24/7 app
Payment
Cash register, avec 24/7 app
+
The sales format offers the classic avec convenience and snacking range in a more compact space.
---
Concept
Classic bricks-and-mortar store
Launch
2021
Stores
8
Opening hours
Mon–Sat/Sun (early until late)
Option 24/7 operation
Access
Normal access, avec 24/7 app
Payment
Cash register, avec 24/7 app
+
The cashier-free convenience store with self-checkout enables round-the-clock access to the tried-and-tested range of convenience products with an extensive selection of fresh foods.
---
| | |
| --- | --- |
| Concept | Autonomous, cashier-free store |
| Launch | 2019 |
| Stores | 3 |
| Opening hours | 24/7 |
| Access | avec 24/7 app |
| Payment | avec 24/7 app |
+
The vending machine for interior use can be installed in offices, complexes, hospitals or hotels and offers a wide range of beverages, fresh sandwiches, salads, snacks and non-food items.
---
| | |
| --- | --- |
| Concept | Smart Fridge |
| Launch | 2021 |
| Stores | 1 |
| Opening hours | 24/7 |
| Access | ‒ |
| Payment | avec 24/7 app |
+
The shelf with self-checkout offers a selection of convenience products within a main store.
---
| | |
| --- | --- |
| Concept | Shop-in-Shop |
| Launch | 2020 |
| Stores | 0 |
| Opening hours | Same as for the main store |
| Access | Access through main store |
| Payment | avec 24/7 app |
+
The avec online store: www.avecnow.ch. Orders are delivered quickly and by e-bike to the home.
---
| | |
| --- | --- |
| Concept | Online store |
| Launch | 2020 |
| Stores | Online shopping |
| Opening hours | Mon–Sat (8 am–10 pm) |
| Access | ‒ |
| Payment | Customer account |
+
From small to large, anything is possible
Even back then, it was clear that this relaunch of avec was only the beginning of a further major development. In addition to the conventional avec sales outlets, Valora also planned adaptations of the concept for locations with very different requirements – small to very small retail spaces, around the clock opening times and autonomous shopping facilities. The core of the format would always remain the same, but the range could be adapted flexibly.
This flexibility, combined with the use of new digital solutions for access and payment, also impressed SBB in its tender for more than 250 retail spaces. Valora's avec concept won out and secured the contract for the strategically important retail spaces at public transport locations.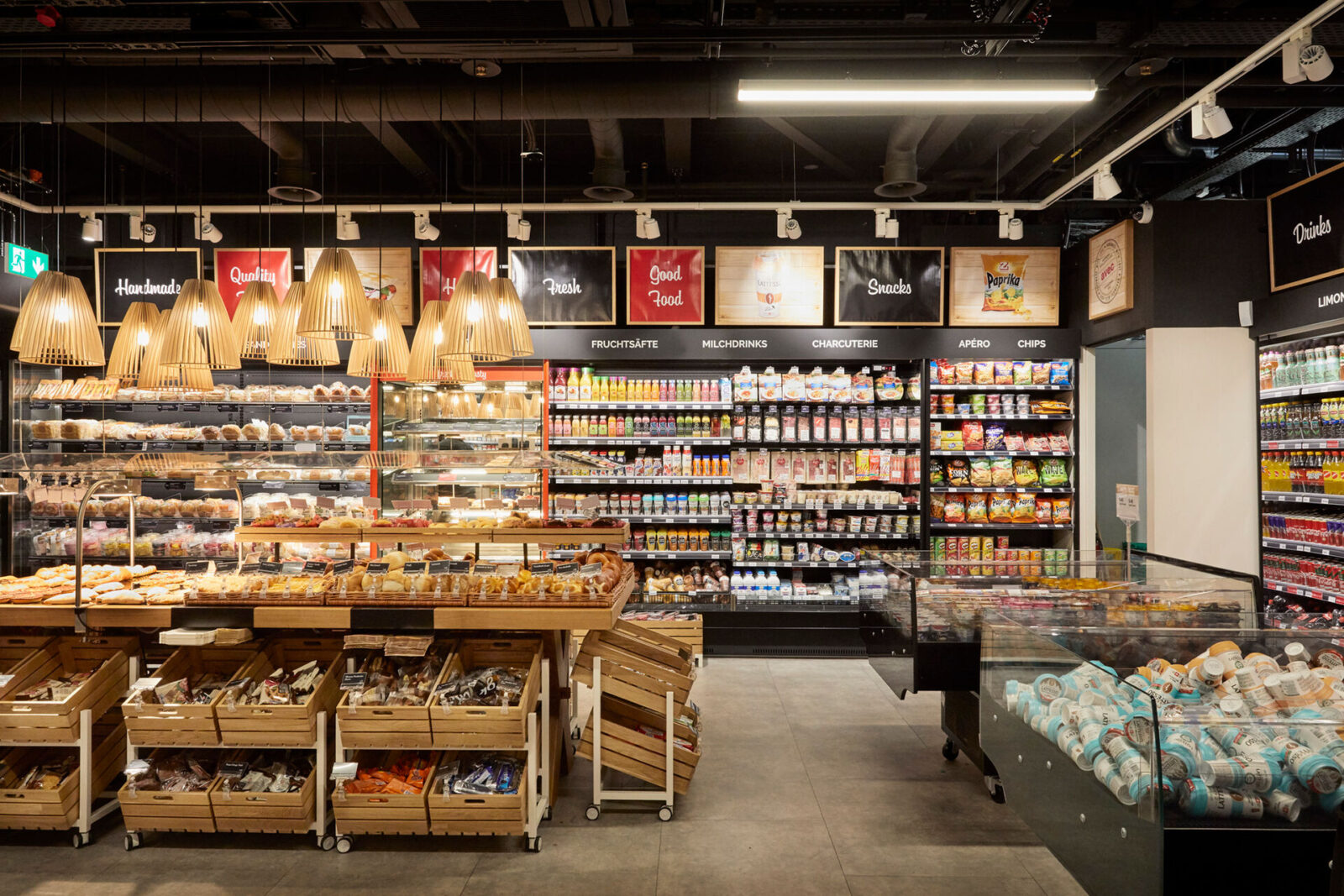 Also ideal for service station shops
As the avec brand is also suitable for locations other than public transport, various sales outlets at Tamoil service stations were gradually converted to the new avec concept. In summer 2021, Valora also announced that it would take over the operation of 39 Moveri service station shops in Switzerland from 1 January 2022 and potentially add more shops at a later date (see Valora story "The different types of expansion"). By collaborating with Moveri, Valora doubled its network of Swiss service stations to around 100 shops under the avec brand. The first store converted into an avec was opened in Rheinfelden AG shortly before Christmas. As a result of the conversion of k kiosk sales outlets at SBB locations, new locations and the cooperation with Moveri, avec will be one of the largest convenience formats in Switzerland with around 300 stores by the end of 2022.
The new avec concept launched in 2018 is also very well received by customers. According to a customer survey carried out in 2021 by the consulting and market research company Fuhrer & Hotz (Swiss convenience trade monitor), avec has considerably improved since 2017. The stores at service stations as well as train stations are now considered the benchmark in the industry and their price-performance ratio, shop design and merchandise performance make them particularly attractive.
avec on a small scale
The avec express shops represent one initial variation of the repositioned avec stores. avec express is an avec convenience store on a smaller scale. avec express focuses on existing locations with smaller k kiosk sales outlets, which Valora is converting into avec stores following the successful SBB tender, as well as entirely new locations. Valora is planning to open a total of 45 outlets in the new format in 2021/2022.
The avec format's greatest strategic asset is its flexibility. Valora has exploited this flexibility and in 2019 launched avec box, Switzerland's first cashier-free autonomous convenience store. What is special about avec box is not the tried-and-tested range of products including fresh food to eat on the go, daily food and basic household supplies, but rather the fact that customers can do all their shopping completely autonomously 24/7. Customers can only enter the avec box, shop and pay for their purchases using the avec 24/7 app.
Following test phases at Zurich's main railway station, Wetzikon ZH and ETH Hönggerberg, the two avec boxes, which are operated in mobile pink shipping containers, were moved to Arlesheim BL and Urdorf ZH in 2021 in order to test locations in industrial areas. An additional, slightly smaller new wooden avec box was installed in Oberohringen near Winterthur ZH in December 2021. In Oberohringen, the avec box is being used for the first time at a location directly between a residential area and an industrial/commercial area that does not have a convenience offering. The avec box thus assumes the role of a village shop selling everyday items.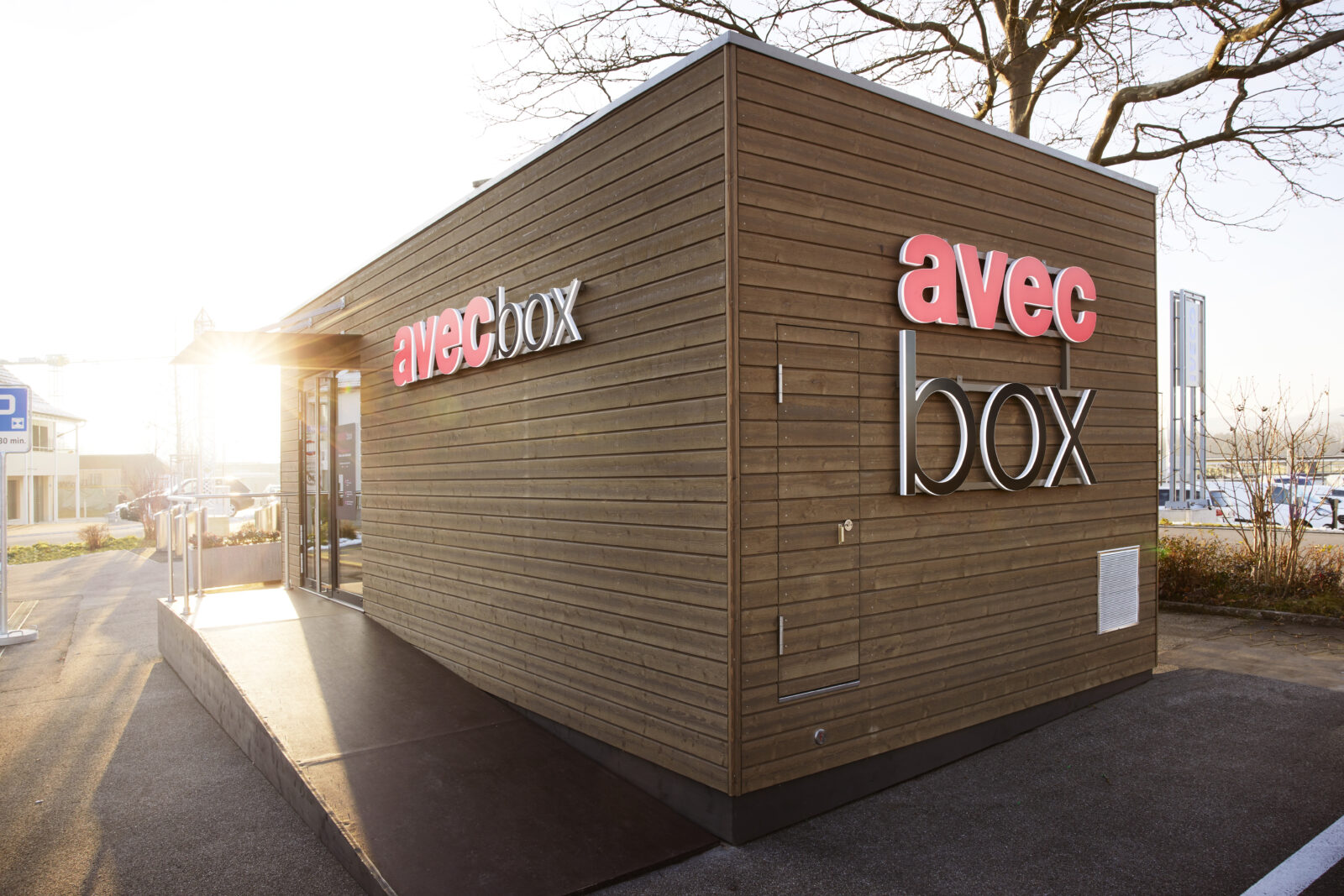 Since 24 June 2021, Valora has also been operating a 24/7 ServiceStore in Ahrensburg near Hamburg according to the avec box principle. This marks the premiere of the tried-and-tested digital convenience solution in Germany. Valora made the technology available to a third-party company for the first time.
avec becomes hybrid
The next step was to combine a conventional sales outlet with the advantages of the autonomous avec box in order to create a hybrid concept. Valora thus opened its first avec 24/7 store at Hardplatz in Zurich at the end of January 2021. The store is operated by employees during the day, while at night and on Sundays it is operated autonomously. Further hybrid avec 24/7 stores were opened at a Tamoil service station in Dällikon ZH as well as at ETH Hönggerberg ZH and Schaffhauserplatz in the city of Zurich.
The avec 24/7 app is also used in avec mini, a vending machine of around 2 cubic metres for indoor areas in offices, residential compounds, hospitals and hotels. The first such smart fridge is located in a private office building in Zurich-Altstetten.
A shop-in-shop model called avec shelf is another variation of the avec concept. In one section of the ETH store in Zurich's Hönggerberg district, students were able to purchase a selection of convenience products as part of a trial run by scanning and paying for their items themselves with the app. The test will now be evaluated before it will be decided whether and where the avec shelf is to be used in the future.
avec becomes even quicker
The avec now online delivery service is one of Valora's strategically important digital convenience solutions. After tests at various locations and avec stores, avec now has been operating from Basel since March 2022. Deliveries are not made from a point of sale, but from storage facilities. The goods reach the customers by e-bike and within 15 minutes. The range currently comprises around 1,700 products and is designed for smaller occasional purchases rather than the week's large-scale shopping expedition.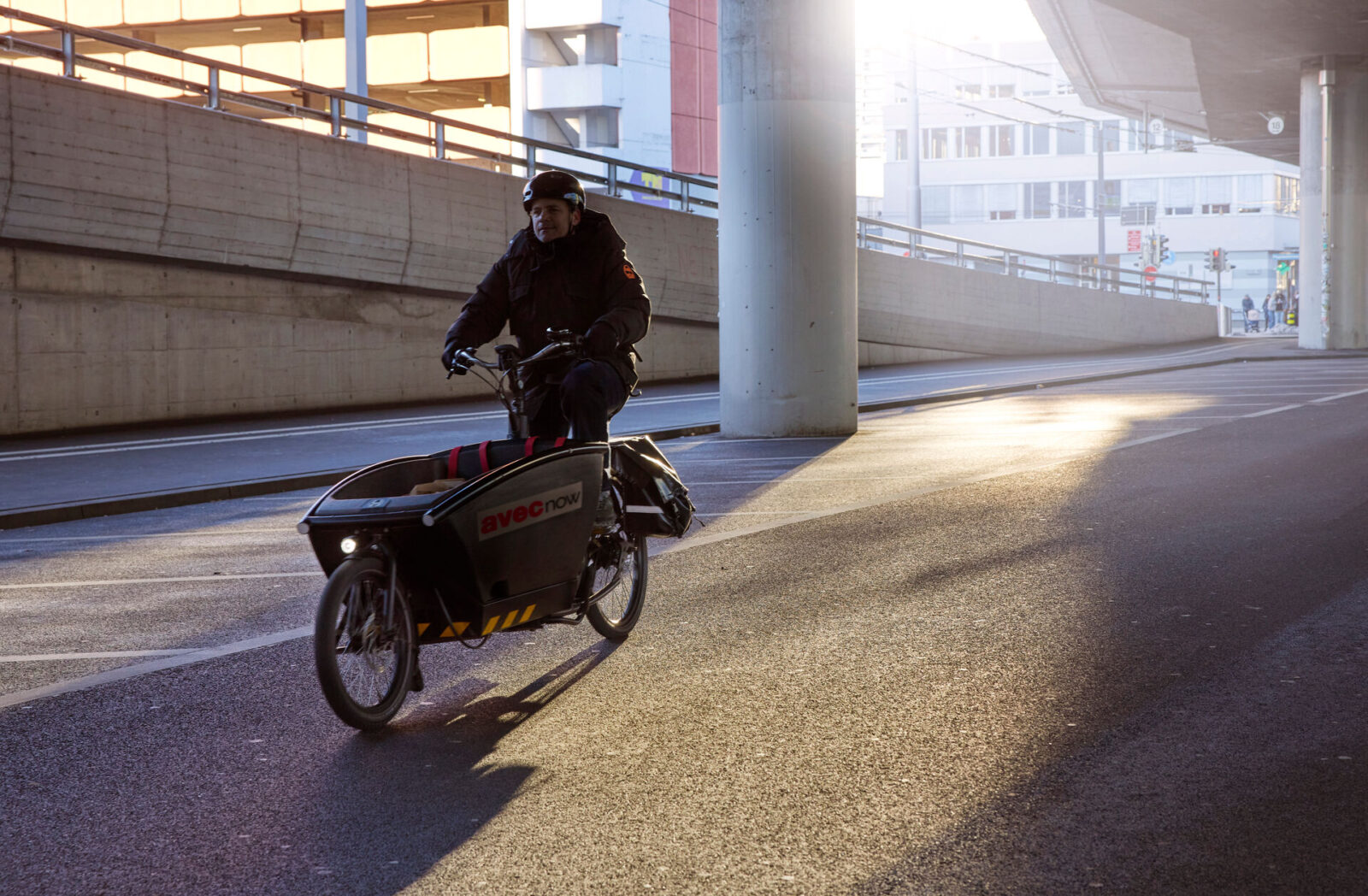 The avec family is thus complete for the time being and the focus is currently on rolling out the various avec formats. Thanks to the flexibility of the concept, the ideal avec shopping option can easily be deployed to suit the needs of every location.
---
This article appeared for the first time on 23 February 2022 and was updated on 20 May 2022.
Photos: Noë Flum. Illustration: Daniel Karrer. Video: Nische Productions.