The people in the Valora network braved the crisis once again in 2021 and performed outstandingly. Valora is proud of them – and asks nine representative employees and partners to report on their day-to-day work.
In sales, administration and production, the around 15,000 people in the Valora network dealt with the working conditions hampered by the COVID-19 pandemic in an exemplary fashion and demonstrated a high level of flexibility. They helped strengthen the company and brightened up their customers' journey days wherever and whenever possible. Valora would like to thank its employees, franchisees and agency operators wholeheartedly and will continue to support them to the best of its ability in overcoming the pandemic – be it with protective measures, advice or financial assistance.
Brian Samali, BackWerk Germany Franchisee
"I'll never forget 11 March 2021 – after three months of closure, I was finally allowed to reopen my BackWerk shops. The lights were on, the staff were back, and the smell of fresh baked goods was in the air – it was amazing! But of course I look back with mixed feelings on the past year, which was completely dominated by COVID-19. New safety measures were constantly being introduced. Employees weren't able to come in. There were also supply bottlenecks. As a completely independent entrepreneur, I'd have gone down in the COVID-19 pandemic. I know that for sure. But Valora never left us on our own – no matter what challenges we faced. For example, we received daily updates on the safety regulations.
I was also motivated by my personal drive to keep the shops running whenever possible. I want to be there for my customers and offer them a bit of normality even during the crisis. And then, of course, there's my team – we depend on each other. When things get hectic or problems occur, we tackle them together. This enables us to jointly meet the challenges posed by the pandemic. It bonds us together."
Patricia Jansen, Assistant Manager, BackWerk Hilversum
"My personal highlight of 2021 was my promotion. After just a few months at the BackWerk store in Hilversum, I was offered the position of assistant manager – a dream job. I love working with my team and enjoy the interaction and how we motivate each other. My ultimate goal is to open my own sales outlet one day as I really like the BackWerk concept. We have a wide product range, and thanks to the open kitchen, our customers can see everything we prepare. It's authentic and pleasant.
The constantly changing COVID-19 safety regulations made things difficult over the last year. In addition, some of our regular customers were not vaccinated so had no COVID-19 certificate, and we were not able to serve them inside. They had to sit outside in the cold whatever the weather – which was sometimes harsh. Talking to our customers is very important to me – and more than ever during the pandemic. An older customer who comes by every day and always orders coffee and a croissant is particularly close to my heart. She's from abroad and doesn't speak Dutch very well. But thanks to our short conversations, her Dutch is getting better every day."
Anja Rudolph, Assistant Head of Sales, Ditsch Production / B2B, Mainz
"I have been working at the Ditsch pretzel bakery in Mainz for ten years now and in the Sales back office since 2018. I love my work in Sales and am in constant contact with the various departments – from Development to Production and Marketing. One of the best moments for me in 2021 was when we were able to return to work and finally have a face-to-face meeting in a large group again. I hadn't seen most of my colleagues for months and, of course, I really missed talking to them directly. Although online meetings are a good way of exchanging ideas and coordinating with each other, there are many subtleties in interpersonal communication that you only notice when you sit together with each other.
After the lockdown in spring and summer 2021, I was surprised at how quickly and effectively our order situation recovered. We now supply retail and wholesale customers around the globe – in Germany and the USA, as well as in Japan, China, Israel, Canada and Australia. We want to gain an even better understanding of the relationships with these customers in the coming year and ensure they get personalised support. We will therefore be introducing a new tool for customer relationship management in 2022. I'm looking forward to it!"
Misha Perillat, avec Agency Manager, Tamoil Service Station Croix-de-Rozon
"Our avec is not far from the border between Switzerland and France and is an important, popular meeting place for many people in the area. Many older people come by every day without a car, shop for the most important household items and meet their neighbours and acquaintances. Of course, this is even more of a blessing during the COVID-19 pandemic because social contact is currently heavily restricted.
I really enjoy interacting with my customers in person. It's a nice feeling when you realise how much good it does to have a conversation, even if it's just a few sentences. The fact that so many people remained loyal to us despite the restrictions by the authorities proves to me that my team and I do a lot of things right and that our work is appreciated."
Julian Hürlimann, Working Student, Valora Digital, Zurich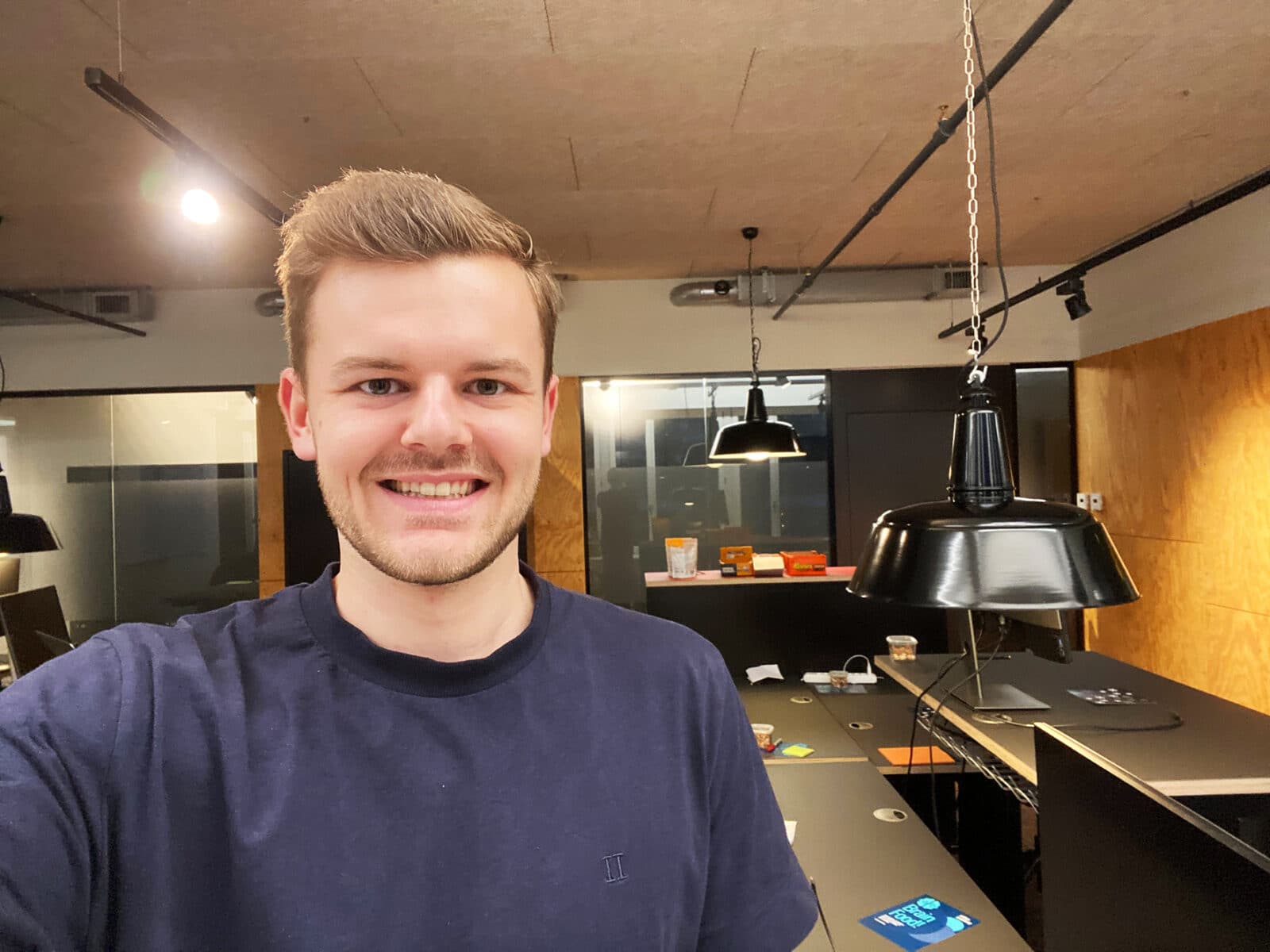 "As a working student, I'm constantly commuting between two worlds – studying at the University of St. Gallen and working at Valora Digital. But I don't see this situation as a double burden. Sure, sometimes it is stressful. Especially around exam time. But I can put what I have learned in theory directly into practice. Our team works extremely well together, even if we rarely sit next to each other in the office. We are well connected with each other and meet regularly for virtual coffee breaks. It's important to chat about private stuff, too. Of course, as we all share a passion for new technologies and digital developments, there's always something to talk about in that area.
When I joined Valora Digital in October 2020, I was one of two working students. In the meantime, we are nine working students and interns. Valora Digital is a bit like a start-up within the Group. We drive each other forward. And together, we can make a big difference. Around the start of 2021, for example, we launched the 24/7 store at Hardplatz in Zurich together with the other departments. The avec site there functions partly with staff and partly autonomously via the avec 24/7 app. We've invested countless hours in this hybrid solution. It was an incredible feeling when I was allowed to enter the converted store."
Carmen Matthies, Area Sales Manager, Press & Books, Hamburg
"I manage the Press & Books stores at Hamburg Airport. My work is very varied, and I constantly commute back and forth between the sales outlets at the various terminals and floors. That easily adds up to 10,000 steps a day!
Of course, at the airport, we have been particularly affected by the COVID-19 pandemic. Five of the six stores were closed for more than an entire year in 2020/2021. Unbelievable. During this time, some of my team worked at other locations, while others were on short-time work. We kept each other in good spirits in a chat group. Meanwhile, I kept them up to date with the latest developments. I have a great team, lots of long-serving employees. So, it was a great relief when I received the call that we could reopen on 1 July 2021."
Burkhard Lange Project Manager at Valora Retail Germany, Hamburg
"2021 was a special year for me. Shortly after I joined Valora in October 2020, the lockdown started, and we were working from home. So, I mainly got to know the company, the processes and the people online and over the phone. It was quite a challenge because I very much appreciate working directly with others. But I don't want to complain. On the contrary, my colleagues have been very helpful. I quickly assumed responsibility for managing strategic projects and implementing them as part of a team. Among other things, Deutsche Bahn opened its first 24/7 ServiceStore near Hamburg in June 2021 – based on the technology of our avec box, which had already been tried out in Switzerland. The completely new format for Retail Germany got off to a successful start – within a short time, we received a massive, positive media response and the app needed to enter and shop in the store was downloaded multiple times. So, my start at Valora has been a great success."
Nicole Portmann, Agency Manager of k kiosk and Press & Books, Zug
"At the end of May 2021, we opened a second k kiosk store at Zug railway station. At first, I was sceptical whether this would work in these rather difficult times. We had to postpone the opening three times due to the pandemic, which made staff planning quite a challenge. But I was pleasantly surprised! The kiosk is doing very well and has become a popular meeting point. We now have a loyal customer base in all three of my shops at Zug railway station. Older customers in particular appreciate the fact that we are there for them seven days a week. It's like a ritual – they drop by, buy a daily newspaper and stay for a quick chat.
I really enjoy interacting with the customers. Most of them are in a hurry and just have time for a friendly hello. But you also have a lot of personal conversations where you find out good but also sad things. One customer is actually very helpful. The pensioner, who used to work at Zug railway station, goes to the post office every morning for us to pick up the large range of daily newspapers we sell. What's a welcome change for him is a valuable support for us in our hectic everyday lives.
Unfortunately, we are feeling more and more how tense people have become, which is most certainly due to the pandemic. A lot of them are a bit irritated or they get annoyed by the social distancing and hygiene rules. I'm fortunate that I can rely on a good team that can deal with it. Respect is the most important thing for me, both towards customers and one another."
Valentina Teganini, Managing Director of Caffè Spettacolo, Zurich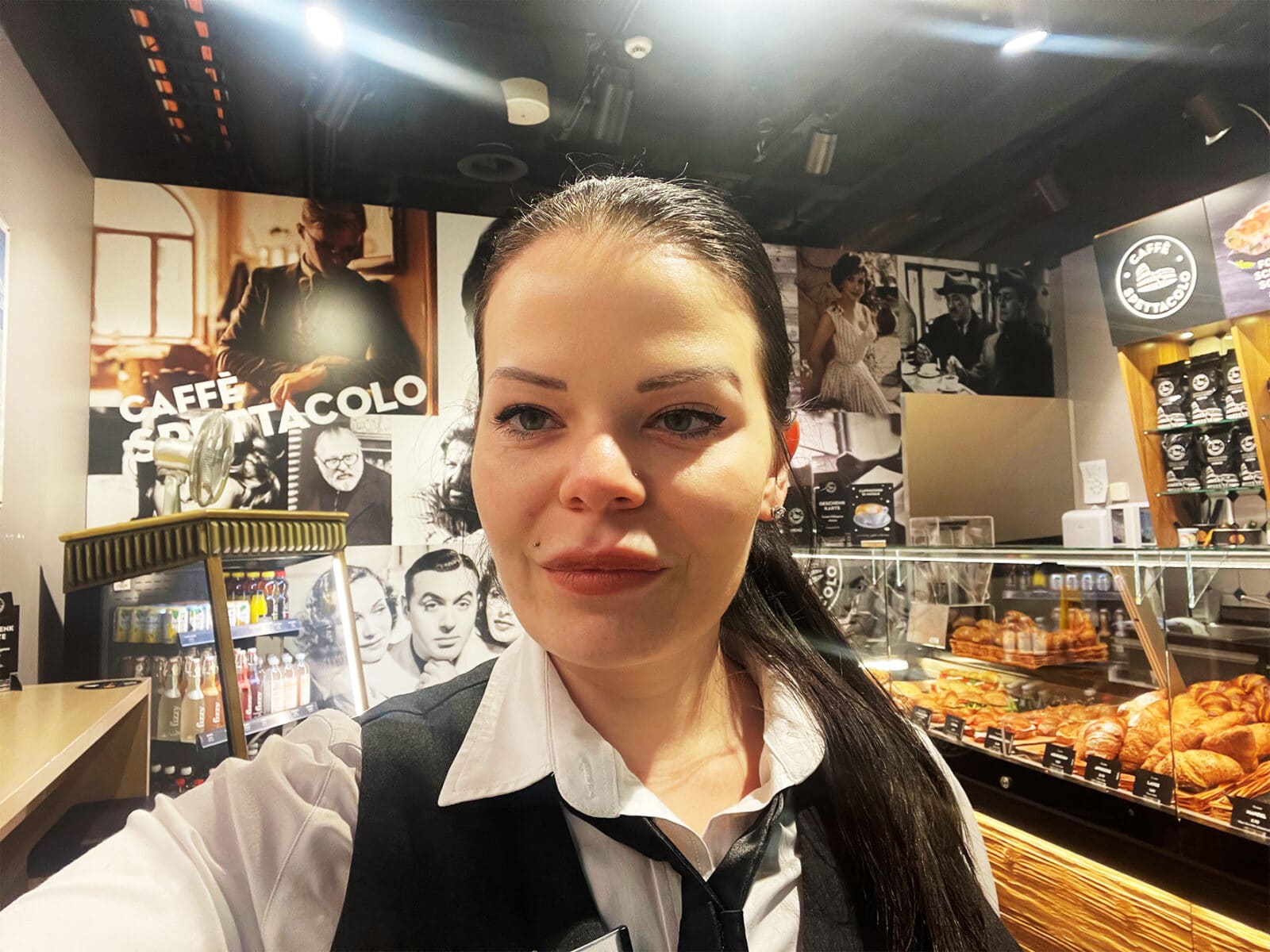 "I love my work at Caffè Spettacolo in the heart of Zurich's main railway station – the hustle and bustle and all the people who come and go every day. This place has special meaning for me because my father worked here for many years as a yardmaster. I practically grew up at the station!
In the meantime, I've been working in the hospitality industry for 15 years and have seen many changes during this time. But something like this pandemic? No, I could never have imagined that. Like my colleagues at the other Caffè Spettacolo sales outlets, we had to contend with a string of challenges last year. It was not always easy to stay positive. But I always tried to convey an air of confidence and therefore motivate my team. My employees are important to me. I'm really thrilled they all joined forces and pulled together during this difficult time."
---
Cover photo and video: Noë Flum.