The retail sector has seen consistent growth in card payments over the past few years. The outbreak of the coronavirus crisis has given another major boost to non-cash payments, with contactless payment methods proving particularly popular. This is also borne out by the figures from Valora retail sales outlets.
---
Valora stands for convenience during the entire shopping experience. This convenience includes the speed and range of available payment options. As a rule, payment takes up to 30 seconds and customers can opt to pay in cash, by card or mobile phone. Contactless payment via NFC (near field communication) is speeding up the transaction process even more.
It is therefore not surprising that these payment methods are gaining in popularity. At the same time, the cashless payment trend in the DACH region is growing more slowly than in the Nordic countries, such as Norway or Sweden. Nonetheless, the coronavirus crisis has significantly accelerated the move away from cash in Europe, including its German-speaking areas. The data from Valora sales outlets proves that.
In Germany, for example, cashless payments in May 2020 were 71% higher than in the previous year. By way of comparison: in January and February, the months preceding the crisis, the growth rate was over 25% on an annual basis. The surge in cashless payments was even more striking in Switzerland in May and April 2020. In January and February, growth averaged 20%, in May it increased by 55% over the previous year.
Contactless and cashless for hygiene reasons
The growth in cashless transactions is mainly for hygiene reasons: using a card instead of cash means the payment does not leave the payer's hand. The problem: any payment method that is not NFC compatible entails entering the PIN in a terminal, i.e. touching a surface. This has prompted some credit card providers to increase the limit for contactless payment transactions in recent weeks, even doubling it in some instances.
It is interesting to see cards or NFC-compatible smartphones being used for smaller sums as well, as it marks a break from the previous practice of restricting cashless payments to larger transactions. The proportion of card payments for sums of less than CHF 10 was 28% higher in January 2020 (before the coronavirus) than in the previous year (while only 2% higher in Germany). This growth is almost twice as much as the proportion of card payments for sums above CHF 10.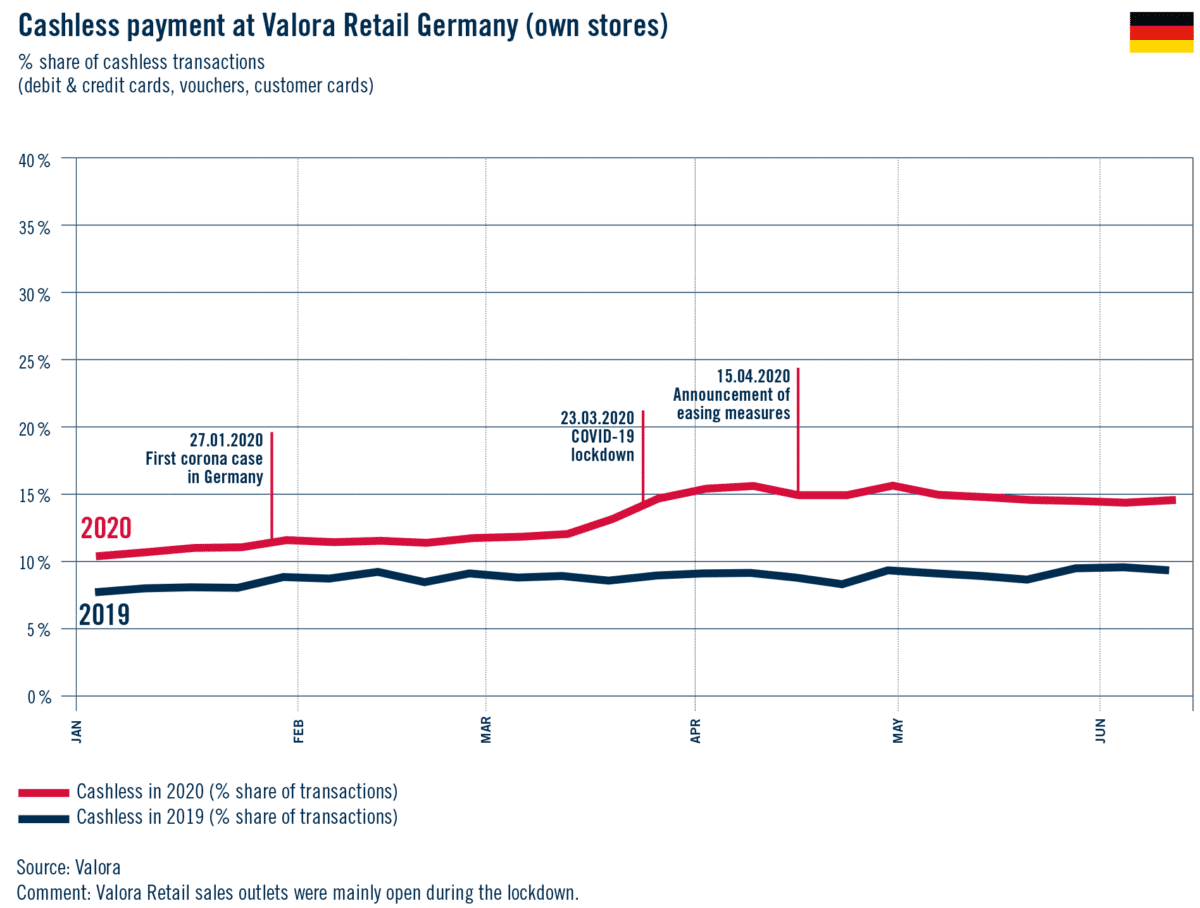 Will the trend towards cashless payments continue?
The figures don't lie: acceptance of cashless payments has increased in the DACH region and the coronavirus crisis has accelerated the trend beyond expectations. Nonetheless, it is unclear how the trend will develop over the mid to long term. Will customers keep up this behaviour or will they return to cash when the crisis levels off? Or will the preference for cashless payment keep growing?
The consulting firm Oliver Wyman believes that only about 32% of all payments will be in cash by 2025. However, that figure also includes online transactions. Prior to the coronavirus crisis, Oliver Wyman forecast a decline in cash payments to 37%.
Valora also expects the broad acceptance of cashless and contactless payments to keep increasing. That is not only because of the increase in cashless transactions over the past few months, but also because demand for alternatives to cash – also driven by online retail – have already been growing for years. Valora has started catering to this change in customer behaviour through new retail concepts, such as avec box.
TWINT, Alipay, WeChat Pay: contactless payment at Valora

Valora offers customers at its sales outlets various cashless payment options.

In Switzerland, they include apart from contactless cards, depending on the format and location: Apple Pay, Google Pay, Samsung Pay – and more recently TWINT, Alipay and WeChat Pay. In Germany, depending on the format and location and apart from contactless cards they are: Apple Pay and Google Pay.

The app developed by fintech company Sonect also enables the opposite of cashless payment at k kiosk and Press & Books stores in Switzerland, i.e. cash withdrawals.
---
nonophotography / hilda design matters