Practical, digital and fresh: avec box and avec X are Switzerland's most modern convenience stores. Come in, do your shopping and pay via an app – practically around the clock and without having to stand at a cash register. As digital as these formats may appear, they wouldn't work without people. We introduce two of them here.
---
Andreas Märki,
Consumer Application Developer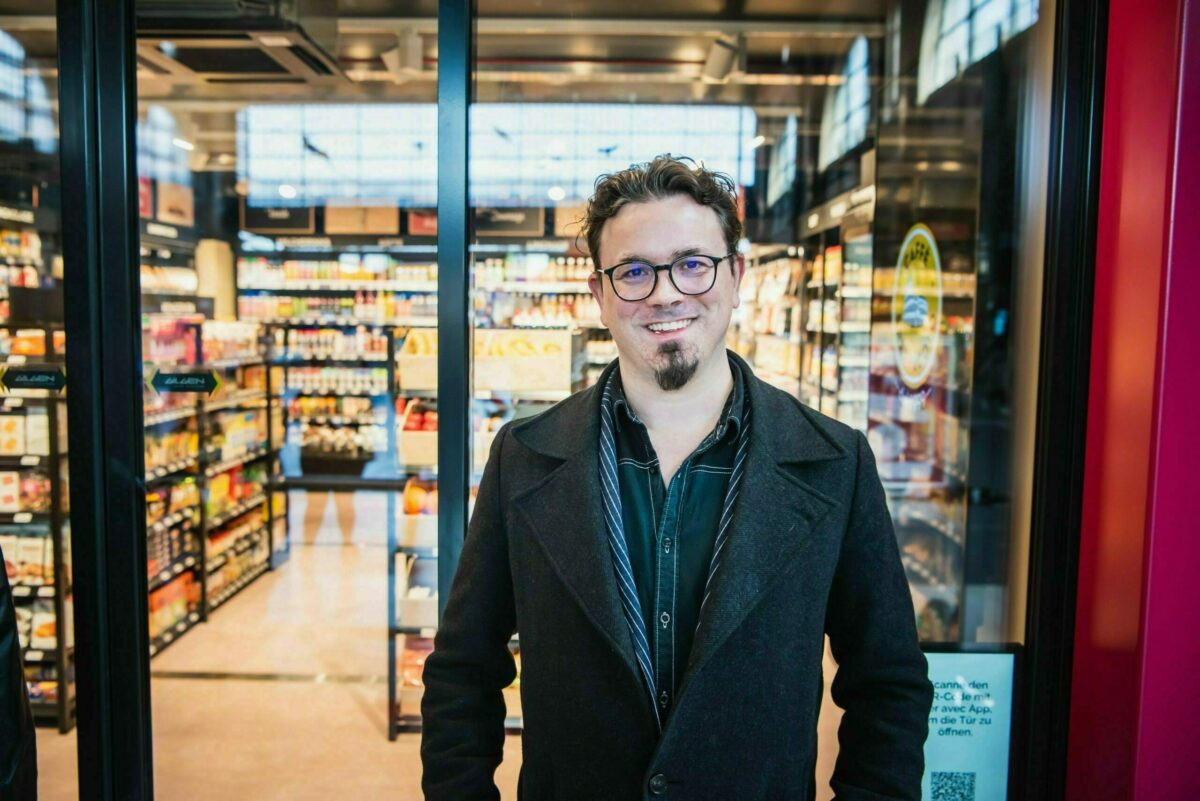 "You can actually imagine it as follows: I am responsible for ensuring that the app works as simply as it does when you use it". When we ask the question of what exactly Andreas' job is, his automatic response is to provide a description. This is presumably because as a Consumer Application Developer he has realised that his work is so abstract that many people lack the power of imagination to picture what he does. He has been working for Valora for three and a half years and is one of the people without whom it would not have been possible to open either avec box or avec X on 6 April 2019. Last October, when the final green light was given for both of the new formats, it was in his hands that responsibility fell for the coordination of the app's front end, i.e. everything that we as users see in the app. Within just six months, as part of a three-person core team, he developed the avec app, which effectively provides avec box and avec X customers with a shop key.
The development of the digital shop key
From the functions that customers find in the app and the networking with the shop to the associated systems. For example, the immaculate scanning of identity cards, the saving of a credit card and the function that allows for the avec box doors to be opened with the app. This sounds simple but there is a great deal of work behind it. Before the store doors open, for instance, the system not only checks whether the customer has saved a credit card in the app, but also whether the card in question is valid at precisely this moment and can be charged. "It therefore may be the case that the door opens with a few seconds' delay. This is something we are working on". Generally speaking, the current version of the avec app represents an MVP: a minimum viable product, i.e. the first version of the app. Based on the experiences gathered and customer feedback, Andreas improves the app on an ongoing basis so that it doesn't only work in an even more stable manner, but also leaves nothing to be desired.
From mechanic to computer scientist
Andreas started his professional career with an apprenticeship as a mechanic. For many years, he worked in manufacturing, making compressor wheels for turbochargers, among other things, that now do their work somewhere on the world's oceans in enormous freighters and passenger ships. At some point, however, he realised that it's not only his taste in music that is very digital, but also that this was the direction that his future work should take. He therefore bravely decided to replace his work as a mechanic with a course which would see him study to become a computer scientist. "It really wasn't easy for me, in the middle of my life, to become a student again with a student wage and as a final consequence to have to move back in with my parents", he recalls. It truly proved worthwhile, however. "In my current job, I never get bored as I not only share responsibility for the future of Valora, but also contribute to shaping the entire Swiss retail sector."
---
Marina Pavlovic,
Store Manager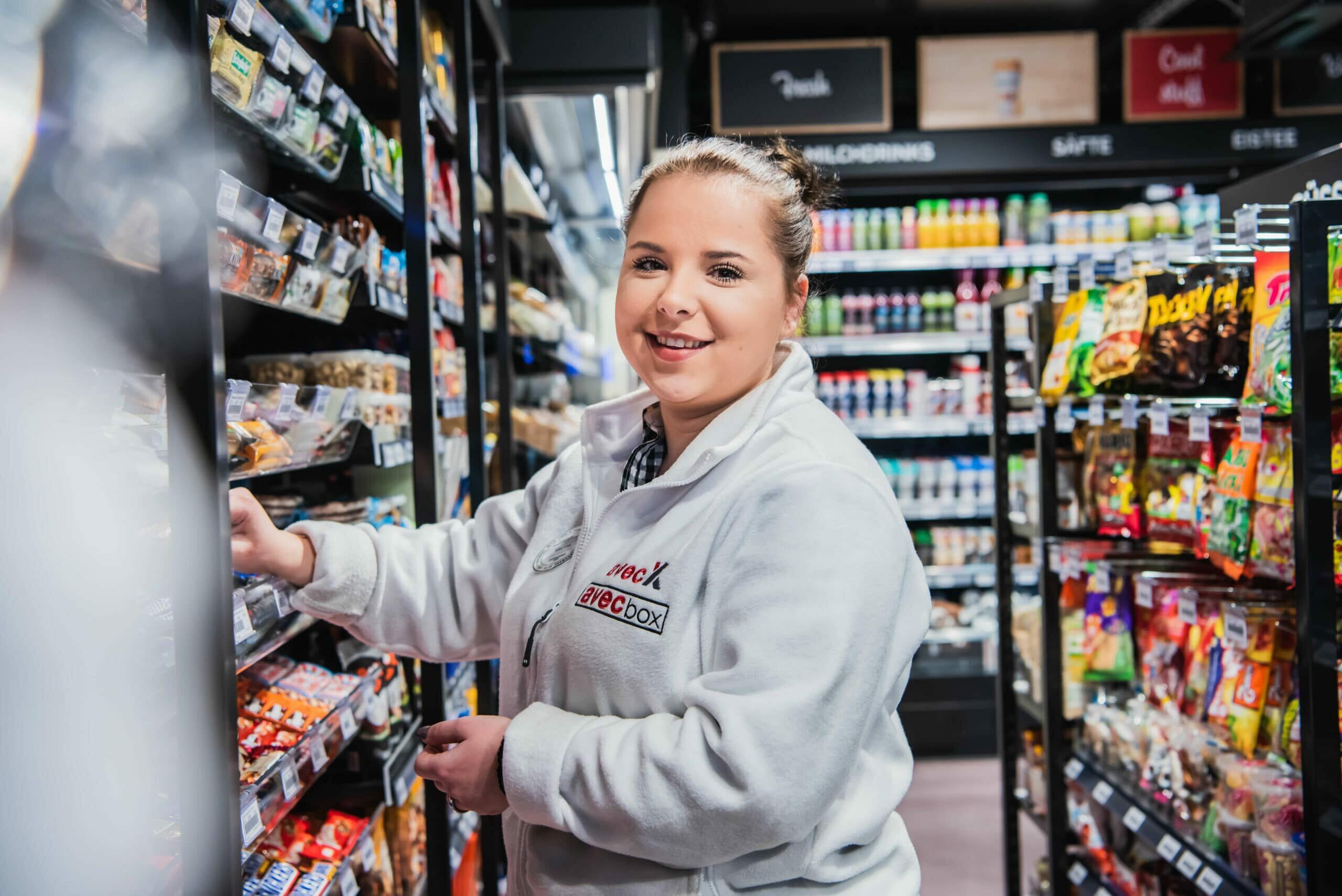 Marina knows the avec box and avec X range inside out. Her favourite product is the tuna sandwich from the «Handmade With Love» line. Since the launch of the two new avec X and avec box formats, she has been on the front line as a store employee and is proud when she can inform customers that they can shop without the need for a cash register.
The focus is on supporting our customers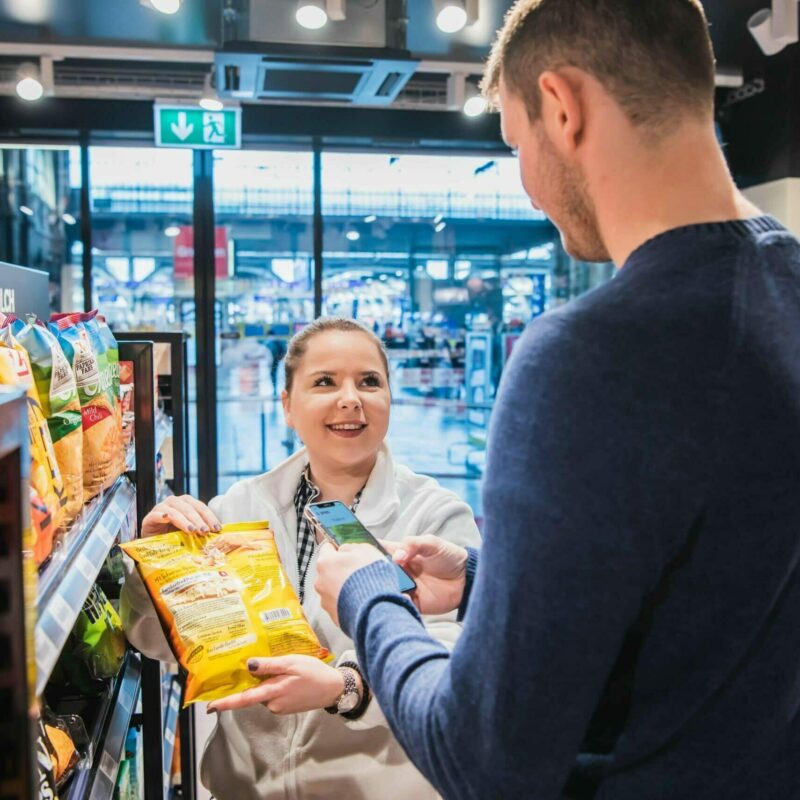 "During the first few days, I had to provide customers with a great deal of support. Things have calmed down a little now as many customers have already visited and can easily get to grips with things on their own", summarises the 23-year-old. In addition to helping customers, she also takes care of overall store management: placing orders, accepting and storing deliveries, maintaining the store's condition and performing a range of administrative work. "Nobody knows better than me which products perform well and can estimate how many units of these need to be ordered. This isn't something that comes automatically". Every now and again, she also perform technical tasks, for example if the coffee machine temporarily doesn't work. Here, many others would immediately call the technical service. She learnt these skills during the special training courses that she had to complete for performing her work in the stores.
New tasks through digitization
As a trained retail expert, she does not miss the cash registers. On the one hand, she feels more secure without money in the shop. On the other, she now has more time for what she really enjoys: contact with customers. "I think it's great that I no longer have to swipe goods over the scanner in staccato to ensure that my queue doesn't become never-ending". In response to the question of what she hopes digitalisation still has to offer in future, she is hesitant in providing her answer. On the one hand, she finds the shopping experience in both new formats fantastic. On the one hand, she finds the shopping experience in both new formats fantastic. On the other, the complexity of digitisation scares her a little. "If developments continue as they have until now, however, meaning that I ultimately have more time for human interaction, I can't see anything that speaks against it."
Further information can be found at box.avec.ch and x.avec.ch.